Carpet Flooring in Bloomingdale, IL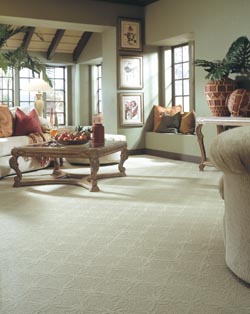 Are you interested in carpet flooring? If so, check out the stunning collections at our carpet store. We sell high-quality commercial and residential carpeting at the most affordable prices due to our affiliation with a national flooring chain, which gives us the buying power we need to obtain the most trusted brands in the industry.
Old, lackluster carpets detract from the beauty of your home's interior. Make your space look new again by replacing your carpets with the high-end options from our store. All of our flooring materials are backed by our Ultimate Confidence Guarantee. If you do not like your new carpet for any reason, let us know within 30 days. Our skilled carpet installation experts will replace it quickly, no questions asked.
How are we able to do it? With our carpet store, we are able to get deals that other networks with less buying power simply cannot. Visit us and become acquainted with our collection of carpeting from leading manufacturers, including:
Stainmaster™
Tigressa™
Resista™
Bedford Mills™
Home Craft™
Hearth & Home™
Downs™
Design Distinctions™
Innovia™
Gibraltar™
Shop Our Carpet Store Selections
Are you looking for a proven carpet weave? Try durable Berber carpet - which is available in abundance at our carpet store. No one wants to replace their carpets with a style that won't last. Durable and stylish, Berber carpet is built to withstand high traffic and stains. As an added bonus, its unique tight-loop design feels cushion-y underfoot, making it as comfortable as it is durable. Prices for this kind of carpet vary, depending on the material. Some are pricier than others, but the benefits are well worth the cost.
For your convenience, we carry a variety of other options, including:
Loop - Like the name suggests, the yarn is looped and fastened to the carpet backing. Durable and stylish, loop carpet flooring will give any high-traffic area a beautiful appearance that will last for years to come.
Frieze - Until recently, frieze carpet was most often found in commercial buildings, but because it's strong and durable, more and more homeowners are installing this carpet flooring in their homes. Its unique design makes the carpet fibers curl in different directions. This helps to hide footprints and other common carpet marks.
Pattern - Are you looking for the best of both worlds? Pattern carpeting is the way to go. It features cut yarn that contrasts with loops to create a unique, sculpted pattern.
Saxony - This is one of the most popular carpet options today, and there's no secret as to why. Dense, level-cut pile fibers come to a smooth, flawless finish, making your carpet look pristine. It's most commonly installed in formal settings.
Do you have children or pets in the home, or adults that are prone to spills and messes? Not a worry when you have Stainmaster carpet installed--residential carpet flooring that is equally at home in a child's bedroom or a family room. Stainmaster resists stains, as its name suggests; for those who have labored to get a spill out of a carpet, facing a fateful race against time, Stainmaster carpet has been around since the 1980s, and it has been the interior decoration choice for busy families that need quality carpet floors.
Complete Carpet Installation from the Experts
A smart investment, carpet flooring is built to last for years to come. With some retailers, you might love the prices, but fret about the installation of the product. Not so with Flooring America. We install what we sell, anywhere in a given store's service area. And we also guarantee what we sell: our Ultimate Confidence Guarantee means that we stand behind our product, and will make it right if your product falls short of expectations.
Likewise, our Price Protection Guarantee protects your interest: if, for whatever reason, you see the same brand and style of carpet flooring for a lower price within 30 days after purchase, we will make up the difference. And our Assurance Guarantee lets you know that if you are not happy with your flooring during the first 30 days after purchase, we will replace it with a carpet of equal or lesser value.
How can you go wrong? Visit our locally owned carpet store, and you'll see why we're the premier source for carpeting. Our friendly associates are ready to help you find the ideal option to suit your needs, personal preferences, and, most importantly, your budget. Call today to discover which carpet is right for your home or business.

Contact us today for a free estimate on the new flooring that can transform the look and feel of your home and business. We proudly serve the communities of Bloomingdale, Glendale Heights, Hanover Park, Wheaton, and Schaumburg, Illinois, as well as the surrounding areas.