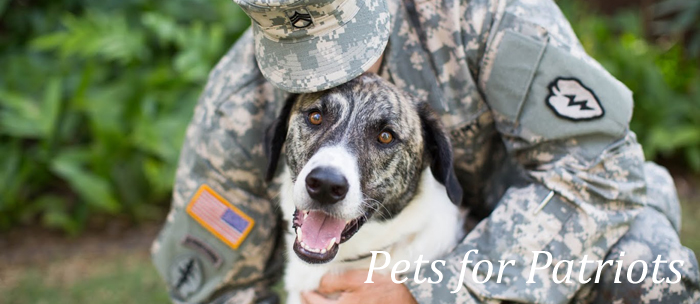 Performers Flooring America is proud to announce our partnership with Pets For Patriots.
Please find donation slips in our showroom, where you can contribute as little as $1.00 to any order, until we reach our $1,000 goal.
---
You're Invited to Our 'Pets & Vets' Event

A portion of the proceeds collected through the Pets for Vets sale will be donated directly to Pets for Patriots.

When: September 15th at 10:00am

Where:

Performers Flooring & Design Gallery

Childcare provided & dogs are more than welcome!

Event Includes:

Starbucks Coffee & Pastries

Q&A with Mayor Frank Saverino
Pet Goodie Bags (Generously Donated by: Spotted Paw Grooming & Pet Shop)
Discounted Services from Studio Fifty Fur (all proceeds will be donated to Pets for Patriots)
Live Demonstrations of Pet Resilient and Waterproof Floors by Mohawk (They will clean up YOUR stains!)

Raffles

Significantly Discounted Lunch from the "Best Truckin' BBQ" Food Truck

Pets and Vets Sale (Last Day)

And Much More!
---
Agenda:

10:00am

Coffee, Q&A, and Pet Goodie Bags

11:00am-3:00pm

Studio Fifty Fur (multiple services for $5.00!*), Mohawk Flooring Demonstrations

12:00pm-3:00pm

Lunch By the Best Truckin' BBQ Food Truck ($5 meals!)

*Short Haired Dogs: Baths | *Small Dogs: Nail Trimming, Ear Cleaning, Pad Trimming, Sani-Clean Service

---
Pets for Patriots Mission:

"Is to give the gifts of fidelity, joy, and love to both veterans and pets through companion animal adoption."

For more about Pets for Patriots, click here.
---
We are partnering with local businesses to promote pet care, adoption, and pet-friendly floors.
We'll see you soon!
For current information, updates, and more visit us on Facebook or Instagram!
1: all quoted text and information directly pertaining to Pets for Patriots was taken from their website, petsforpatriots.org, and is being used expressly for donation-driving purposes.