Durable Laminate Flooring in Bloomingdale, IL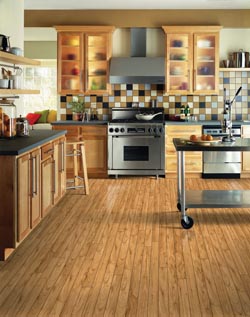 Do you love the look of real hardwood and tile but don't have room in your budget for such costly material? We have an easy, cost-effective solution. Laminate flooring in Bloomingdale, IL is a strong, popular flooring choice used in many homes across the country. This is because it replicates the magazine-worthy look you want to achieve for a fraction of the price.

Lauded for their beautiful grade and stylish look, laminate floors will give any room in your home that much-needed upgrade. Simply tell us what style of flooring you desire and we will recommend the perfect laminate tile or laminate wood flooring options for you. Once you settle on the product, you can count on us to perform the installation with ease. Whether you're looking for an inexpensive alternative to hardwood floors or a durable flooring option for your high-traffic room, laminate flooring installation is the right choice for any home. Whatever color or style you choose, you can rest assured it will instantly add value and visual flare to your home.
Benefits of Laminate Tile Flooring
At our flooring store, we have a wide selection of laminate options that are as attractive as they are practical. If you desire the appearance of porcelain or ceramic tile, you should consider the advantages of our laminate tile flooring. The tiles we carry are designed to mimic the appearance of authentic ceramic tile.

Another advantage of selecting laminates is how easy they are to care for. The laminate material is resistant to surface scratches, making it an excellent choice for high traffic areas such as kitchens. It also does not absorb water and moisture, so you do not have to worry about warping or cracking when your floors are exposed to liquids. Laminate tile floors are a popular choice for kitchens and bathrooms because of how resilient they are. Do you suffer from allergies or frequently fall ill? Our floors don't absorb dust like bulky carpets do, so they're very sanitary. The design flexibility also lets you choose the perfect style to compliment the interior of your home or office. It's truly one of the most versatile flooring options on the market.
Attractive and Convenient Laminate Wood Flooring
Laminate wood flooring gives you the appearance of a breathtaking flooring surface while keeping costs to a minimum. Just like real hardwood floors, you get to choose the style of wood species and grain pattern you want to enhance the aesthetics of any room or hallway.
High-Quality Material from Trusted Brands
When it comes to elegance and affordability, laminate flooring is the king. These floors are made from layers of composite wood and fiberboard combined under high pressure and heat. The most impressive aspect of a laminate floor is the photograph layer. Any sort of pattern or image can be used for the layer, allowing laminates to simulate hardwood, natural stone, or even patterned ceramic.

Nothing is more important to us than quality, which is why we only stock name-brand products you can rely on at a price you'll feel good about. This way, your flooring can reflect your style without the expense and maintenance of other flooring materials. It is especially true when you are choosing from the high-end brands we have in stock. The following are some of the most trusted and prominent flooring brands we carry:
Shaw™
FloorCraft™
Mohawk™
Mannington™
Quick, Easy, and Affordable Laminate Flooring Installation
When considering your flooring options, keep in mind the speed of installation compared to other types of flooring. Laminate flooring installation is simplified immensely by the "click-lock" system. Each piece is constructed in a way that allows it to easily connect with other pieces. This allows your laminate floors to be installed fast, often in half the time of other materials. To make your purchase even more affordable, we offer special financing as well.

The final advantage of these floors comes after installation is complete. Maintaining them is easy. Regular sweeping and mopping keeps your floors looking good as new. The upper layer of our laminate products resists scratches and other damage, and the structure of your new floor stands up well, even with the heaviest foot traffic.
Focused on Customer Satisfaction
We care about your unique flooring requirements and work tirelessly to meet or exceed them. There are no hidden fees, and consultations are free. Coupons are also available to help you save even more. Your experience with us from start to finish is completely tailored to your goals and budget.

There's a reason our customers have made us the top flooring store in our community: we are genuinely invested in your project and take the time to understand how you would like us to assist you with it. Our experienced and skilled installers are also courteous and respectful of your home. We make sure to dress properly, work efficiently, and clean up our workspace before we leave. Your home is important to us, and we make sure to earn your trust when you let us through the door.

We can measure the rooms where you plan to install your new flooring, and provide you with a free estimate on the cost. Give us a call to schedule an in-home appointment to receive all the information you need to choose to perfect floors for your home, or visit our showroom today.

Contact us today when you want affordable and stylish laminate flooring. We proudly serve Bloomingdale, IL and the surrounding areas.