Luxury Vinyl Tile in Bloomingdale, IL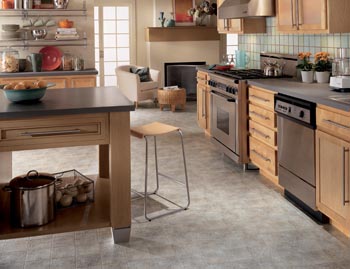 Turn your house into a home with new luxury vinyl tile from our flooring store. When you turn to us for our products and services, you'll receive a complete luxury vinyl tile installation of resilient flooring that stands up to your lifestyle. We are happy to offer countless options for your kitchen, bathroom and living areas. Feel free to get in touch with us to plan a flooring project that meets your unique needs as a homeowner.
Make the smart investment for your home when you install luxury vinyl floor tile from our store. We offer a full stock of tiles that are easy to care for, water resistant, and the right fit for every budget. When installed properly over your base flooring, vinyl is resistant to dents, scratches, stains, and other signs of wear and tear. It can last anywhere from 10 to 20 years with the proper maintenance. Because of its resiliency, vinyl is the perfect choice for families with children and pets.
Cost-Effective Resilient Flooring
As a homeowner, you have enough things to take care of without worrying about having to maintain every inch of your floors. Due to its unique texture, luxury vinyl floor tile is easy to care for with little effort required to keep it clean. For most stains, all it takes is a damp mop and floor cleaner to make it look new again.
Vinyl flooring is manufactured with beauty and durability in mind. Made of multiple layers, this flooring option provides maximum performance. The clear top layer guards against scratches and scuffs, as well as rips and tears. The design layer is printed with realistic visuals that give the authentic appearance of porcelain, ceramic, or stone tile; or hardwood plank. A backing layer provides strength and stability. This layered construction gives luxury vinyl a look that imitates nature and the toughness to withstand heavy foot traffic. Visit our gorgeous showroom to choose LVT in the style that matches your décor.
When you have worked hard to turn your home into the best that it can be, you certainly deserve to have a flooring design that matches your unique and personal style. Whether you are interested in our luxury vinyl plank flooring or the benefits of luxury vinyl floor tile, there are almost unlimited options to choose from. From warm neutrals to unique patterns, you'll find the right style to fit any type of room. Vinyl is available in a wide range of colors, patterns, and textures.
Any color scheme that you currently have in your home can be matched and enhanced with one of our varied luxury vinyl floor tile options. You'll love our expansive inventory that includes a range of styles that resemble luxury textures, such as slate and marble, all without the high price tag you would otherwise have to pay. We offer a complete stock of options that will fit any décor.
You do not have to settle for less when you select luxury vinyl for your home or place of business. Discover how luxury vinyl plank tile can give you the look of tile, stone, or hardwood by exploring our striking selection of luxury vinyl floor coverings for residential and commercial application.
Vinyl plank is luxury flooring at its finest. If you are looking to add the natural beauty of hardwood to your home, this is a truly affordable option for you. Luxury vinyl plank flooring brings warmth to every room without the high price tag that may deter most homeowners from choosing to install hardwood. Our durable flooring planks are available in stunning wood designs that make them a perfect fit in kitchens, bathrooms, and living rooms.
You can decorate in grand style without paying high prices, because LVT plank mimics tile or wood. This means you can decorate your whole house in different styles of vinyl flooring. How about choosing vinyl tile for the foyer and luxury vinyl plank flooring for the living room? With the amazing prices at our flooring store, you can have it all.
Your Source for a Full Luxury Vinyl Tile Installation
When it comes to your floors, quality matters. Protect the investment you have made in your flooring with professional luxury vinyl tile installation. Because we are seasoned professionals, we are willing to share the benefits of our experience to provide you with a bounty of the best brand names in luxury vinyl, as well as professional luxury vinyl tile installation. We know exactly what to do to make LVT look lovely and last for a long time. Our team always installs all floor coverings over a clean and level surface.
Our friendly and reliable team is happy to provide full vinyl tile installation for any room, making sure that your installation will be performed to the highest standards. We place each piece with precision and make sure it lays flat and adheres properly. The process we employ is one that results in attractive, flawless flooring that will be fully protected from all kinds of damage.
With our staff on your side, you can rest easy knowing that every detail of your job is covered. You will appreciate the fact that we always work hard to perform a successful installation throughout your home. Plus, thanks to our bevy of free estimates and coupon offers, you will always be able to save money on luxury vinyl tile installation when you work with our flooring professionals.

Contact us today to shop our selection of luxury vinyl tile in Bloomingdale, Illinois. Our store proudly features resilient flooring options for customers throughout Glendale Heights, Hanover Park, Wheaton, and Schaumburg.