Update Your Property with Luxury Vinyl Flooring in Bloomingdale, IL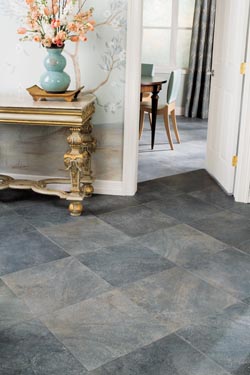 Replace your old floors with stylish luxury vinyl flooring in Bloomingdale, IL. At Performer's Flooring America, we offer a variety of excellent vinyl flooring options for your home or business. With unmatched durability and many designs to choose from, luxury vinyl is a cost-effective way to update any room.


Limitless Design Choices
No matter what style you are trying to achieve for your property, a luxury vinyl surface is the right choice. From the natural stone aesthetic of luxury vinyl tile to the timeless wood look that vinyl planks provide, there are many options from which to choose.
If you like the appearance of stone or ceramic but do not like hard surfaces, then you should choose vinyl tiles. These tiles give the look of porcelain, marble, or granite while providing a softer and comfortable floor for on which to walk. Vinyl is also easier to keep clean, with many messes wiping away and minimal risk of permanent stains.
For the wood-look, luxury vinyl plank flooring is the way to go. These planks have the look and texture of natural hardwood while being a more cost-effective option. They also provide superior moisture protection, allowing you to achieve a wood look in any room, including bathrooms and kitchens.


Highly Durable Flooring
When you need a durable flooring option for your property, there is no better choice than a luxury vinyl surface. Designed with life in mind, this resilient flooring is easy to maintain and highly resistant to damage. This makes it an excellent choice for areas with lots of foot traffic and regular spills or messes.
Luxury vinyl also provides unrivaled moisture protection. This makes it a great solution for rooms where water is normally present. This moisture resistance also provides excellent prevention against mold and mildew growth. This protects everyone in your property from the health risks that mold can pose.


Complete Installations
At Performer's Flooring America, we offer complete services to take care of your new luxury vinyl tile installation. Our team is experienced to handle everything required to get the job done right, ensuring that your new floor looks fantastic in your home or business. We use the right tools to layout and install your new flooring, making sure that your new surface provides the durability and water resistance that you expect.



Contact us when you are looking for a resilient and durable flooring solution to update your property. We proudly serve Bloomingdale, Glendale Heights, Hanover Park, Wheaton, and Schaumburg, IL, as well as the surrounding areas.