Tile Flooring in Bloomingdale, IL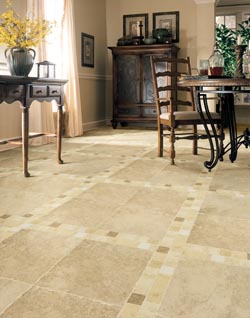 Improve the look and feel of your home or place of business with new tile flooring in Bloomingdale, IL. One visit to our spacious showroom is all it takes for you to find what you need. Our store has numerous stylish and durable tile collections for you to peruse. From colorful patterns of porcelain or ceramic tile to elegant slate tile flooring, we have something to suit any interior décor style or preference at our flooring center.
When you are deciding on a tile floor option for your home, office building, store, or other commercial property, it's best to weigh three considerations: durability, style, and cost-effectiveness. We guarantee you will find the perfect selection for these floors among our many high-quality options. You can experience the luxurious look and feel of modern tile with our professional tile flooring installation services. Ensure that your newest flooring addition will last a lifetime when you visit our spacious showroom. Our friendly and knowledgeable staff can assist you in finding the right tile selection that best fits your needs in looks, performance, and overall functionality.
The brands we carry have been proven for their reliability, visual appeal, and functionality. Since our parent company partners with many distributors and brands throughout the flooring industry, you can have confidence knowing that we are dedicated to finding the right flooring and materials to fit your situation. In addition, our selection changes frequently, so you have access to popular products and designs throughout the year. When you visit our tile flooring section, inspiration and practicality unite to make your home or office a unique place.
Versatile Tile Selections
Ceramic, slate, and porcelain tile flooring are all wonderful options for your next interior remodeling project. Since tile can be cut in many different sizes and shapes, you are welcome to explore your design options to create a space that gives your home or office a personality of its own. Create stunning, custom designs. Smaller tiles can also be used to create wall patterns for the shower area, or a kitchen backsplash area. As always, our flooring associates adapt to your needs, so you receive the materials and support you need for a successful project.
Porcelain Tile
Glazed porcelain tile, slate tile flooring, and ceramic tile options are what you need when you want a flooring surface that remains highly resistant to water or dirt stains. This type of tile floor is the best material for your bathroom or kitchen areas. Along with resisting stains and water, glazed floor tiles made from porcelain also prevent allergens and pet dander from infiltrating your floors. Come to us for the perfect hypoallergenic option for your home or office and let us improve the quality of the air inside your residential or commercial building.
Porcelain tile can be used for both indoor and outdoor spaces, such as patios and balconies. You can add porcelain tile for a more modern look and feel to your flooring because porcelain has all of the advantages of ceramic tile with the additional advantage of increased durability. Modern tile made from porcelain also resists frost, so you can use it in both outdoor and indoor spaces without fear of freezing and cracking. You can express your personal style with subtle tone-on-tone designs and the many styles and colors available at our store. We strive to make it easy for our customers to match their existing décor and furnishings. In fact, we guide you every step of the way—from selection to installation.
Porcelain derives much of its strength from its construction and composition. It is fired at higher temperatures, allowing for a denser and heavier building material. In addition, porcelain tile is finished with a large selection of glazes and coatings to provide additional stain resistance, as well as extra customization options. Thanks to our partnerships with many popular brands and manufacturers, our flooring store offers porcelain options in a variety of colors, shapes, and sizes. For a long-lasting aesthetic appeal that will overcome everyday wear and tear with ease, porcelain is a sensible choice.
Ceramic Tile
For many centuries, architects have used ceramic as an elegant and durable flooring option. Modern fabrication techniques have made ceramic one of the most flexible options for tile flooring. Manufacturers create a quality product in a variety of colors, textures, and tones, so every floor is unique. Ceramic flooring is one of the most versatile flooring options per square foot, and the easy installation ensures you are able to enjoy your new investment on your schedule.
Trusted for its strength and durability, ceramic tile is a smart choice for homeowners with children and pets. The non-porous composition of tile, along with a large selection of finishes, creates a resilient floor that resists everyday foot traffic while remaining beautiful. On top of that, ceramic tile resists common "mishaps" of daily life, such as dropped items, scraping chairs and furniture, and spills.
Ceramic is versatile in terms of functionality and visual appeal. Thanks to modern manufacturing methods, ceramic tile is available in a wide selection of shapes, sizes, textures, and designs. From checkerboard patterns to ornate mosaics, ceramic allows you to explore your creative options. Our trained and experienced flooring associates can work with you to facilitate your next interior design project. Simply tell us your design goals, and we can help you fashion a floor design that accommodates your sensibilities.
Slate Tile
Make a lasting impression on guests and business partners with slate tile. Slate is an option that can withstand the test of time. It is a building material that has been used in roofing, and many installations can last for more than a century when properly maintained. Slate tile continues this tradition by adding strength and value to your investment. Many different colors are available in our slate section, providing you the flexibility you want to create designs and patterns that are unique to your property.
Top Tile Flooring Brands
Of course, our store firmly believes that a successful remodeling project depends on variety. As such, you deserve to work with a flooring store that provides the options you want. Whether you are going for a low-key aesthetic or something ornate, our selection has the materials for you. In addition, you can also use this tile to enhance your kitchen countertops and backsplashes. Whether you want to use ceramic tile or slate floor tiles, you can find exactly what you need when you speak with our knowledgeable staff. Some of the most trusted, popular brands in the industry that we sell and install include the following:
Floorcraft™
Homecraft™
Design Distinctions™
Daltile™
American Olean™
Durable Flooring Options for Busy Households
Tile flooring is an excellent choice when you want to add a durable flooring material to rooms with high foot traffic such as kitchens, hallways, bathrooms, or break rooms. In addition, the ease of care involved with tile floors is perfect for a busy household. Regular mopping and sweeping are all you need to keep your tile flooring looking like new for the entire life of your floors. You can also clean up all manner of spills and accidents with common household sponges, warm water, and mild soap.
Professional Tile Flooring Installation
You can refresh the floors in your home or business with one trip to our flooring store. Once you have spoken with our friendly sales team and chosen the perfect tile to match your interior décor, don't forget to schedule an appointment for tile flooring installation with our skilled and experienced crew. We can install your new flooring tiles below or above grade level, so our tiles work well for any application. Consider our trained flooring installation technicians when you need someone to provide you with tile flooring installation service options for your bathroom, break room, living room, or kitchen.
When we begin the installation process for your tile flooring, we work according to your busy schedule to make sure that we impact your work or home routine as little as possible. We install tile floors quickly and efficiently to make your experience a positive one. On top of that, we back our work by the industry-renowned Ultimate Confidence Guarantee™. Select flooring products enjoy our collection of warranties to ensure you are completely satisfied with your investment. In the event you find any faults in our workmanship, we will correct all errors at no cost to you.