Beautify Your Space with Wood-Look Tile in Bloomingdale, IL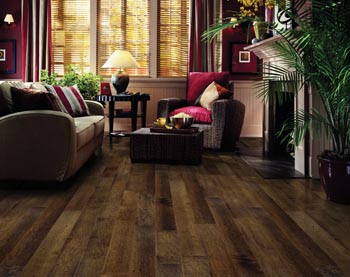 Conventional solid hardwood is one of the most popular flooring materials available on the market today. Rich in rustic appeal, this highly sought flooring option is, however, somewhat limited in some remodeling efforts. Solid hardwood isn't an ideal choice if you're looking to redress any area of the home that gets exposed to moisture. Fortunately, you can augment your space with the look of authentic hardwood flooring even in moisture-prone areas when you turn to Performer's Flooring America for wood-look tile in Bloomingdale, IL.
At our showroom, we proudly carry a wide variety of flooring options that are equally attractive and functional. Among our many premium choices, eager shoppers will find quintessential "two-in-one" materials when they browse our wood-look tile and plank flooring. Our textured ceramic wood tile and wood plank porcelain tile selections bring classic, coveted beauty into the modern era with the added benefit of suiting remodeling projects in moisture-prone spaces exceptionally well.
Refresh Your Interior with Our Wood-Look Floors
What makes our wood-look tile flooring a stronger option than its solid hardwood cousin? It offers the same appeal you've come to love from authentic wood flooring as well as few other benefits, including:
A Multitude of Design Options
Cooling and Heating Benefits
Ease of Maintenance
Impressive Durability
Notably, the ease of maintenance of our look-alike flooring options is a valuable benefit because it helps make our porcelain and ceramic wood tile selections ideal choices for those who don't have the time to maintain their floors regularly. Add to this the prospect of being water resistant and their ability to easily withstand foot traffic. All of this adds up to create an ideal flooring choice for nearly any remodeling effort--even projects in bathrooms, basement, kitchens, and other moisture-prone rooms.
Make a Responsible Property Investment
At our expansive showroom, we carry two distinct variants of our traditional wood-look tile products that possess extensive interior design potential. Our ceramic wood tile is a standout selection that offers incredible versatility. Easily cut and shaped, our skilled installation crew can provide you with a quick, hassle-free flooring installation at your request.
Alternatively, our porcelain wood tile and wood plank porcelain tile choices offer the water resistance and durability you need. Beautiful and ready to perform, this unique flooring material will give you the look of real wood flooring and will hold up well even in the ever-changing temperatures and humidity of your bathroom, basement, or kitchen. Share your project details with our knowledgeable specialists and we'll help you find the right choice for your home.

Contact our showroom to learn more about our attractive, functional wood-look tile flooring choices. We proudly serve homeowners in Bloomingdale, Glendale Heights, Hanover Park, Wheaton, and Schaumburg, Illinois, as well as the surrounding areas.