Wood-Look Tile in Bloomingdale, IL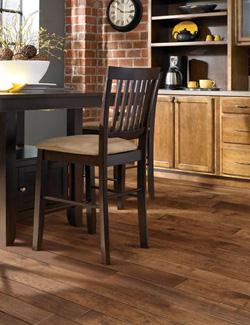 When you are remodeling your home, find attractive flooring solutions at Performers Flooring America. Our extensive inventory includes our increasingly popular wood-look tile in Bloomingdale, IL. This remarkable material is ideal for homeowners who prefer the appearance of hardwood, but also require ceramic tile's resistance to liquids and humidity.
With this unique flooring style, property owners can transform their home interiors with the gorgeous appearance of real wood for an affordable price. Tiles are remarkably durable, and with the look of wood, they allow you to enjoy a timeless visual appeal in virtually any room of the house.
Experience the Luxury of Ceramic Wood Tile
Our wood tile imitates the shade and graining of a variety of hardwoods. Whatever your preferences are, there is a wood tile that will work for you. Hardwood floors are a classic in homes of all design motifs. With ceramic wood tiles, enjoying the natural-looking floor of your dreams is no hassle at all. Simply talk to one of the knowledgeable associates at our showroom. A member of our team will guide you through an assortment of options. Once you have found the style that satisfies your design goals and budget, we will provide professional installation.
Your Source for Beautiful Wood Tiles
Today's production techniques allow for competitively priced flooring that flawlessly duplicates the look of the real thing. In the case of porcelain wood tile, the proof is in the seeing. Feel free to drop by our showroom to get a feel for the look and feel of wood tiles for yourself. These hard-to-damage materials stand up to years of heavy foot traffic without cracking or staining. If you would like to get started on an exciting home improvement project with wood-like tiles, we want to hear from you.
Tough Tile with Authentic Wood Grain
You won't believe your eyes when you see your home interior upgraded with stunning tiles with organic-looking grain and coloring to them. These products are quickly proving themselves as a new favorite among homeowners who want low-maintenance luxury that looks like new for many years to come.
With our real-looking wood plank tile, unbeatable pricing, and professional tile installation, it's no wonder our customers recommend us to their friends and family. Come in today for a higher level of customer service. We're your source for wood tile, carpet, and more.

Contact us for beautiful tile flooring with the look of real wood. We proudly serve customers in Bloomingdale, Illinois.